Siem Reap, Cambodia Travel Guide
---


Raffles Grand Hotel d'Angkor, Siem Reap, Cambodia
Author: Kounosu (Creative Commons Attribution 3.0 Unported)




Siem Reap is a town in Cambodia best known as the gateway to the ruins of Angkor. This busling town is located near the northern banks of the great Tonle Sap Lake. It serves as the capital of Siem Reap Province.

The name Siem Reap actually means "the Siamese were defeated". It refers to one of the many clashes between the Khmers and the Siamese forces of Ayutthaya in the 17th Century. Today, Siem Reap draws travellers from all over the world who come to visit its most significant attractions, the ruins of Angkor.
Guide to Siem Reap Hotels
It's never easy finding the hotel that's just right for your stay. Still, by taking a little time to do your research, you increase your chance of getting a good hotel at the best price. Go through the list of hotels in Siem Reap which we've put together, with full description, star rating, address, location map and evaluation. Pick the hotel of your choice and view the rates offered by different booking sites. Yes, we show you prices from different websites, so you don't have to visit them one by one.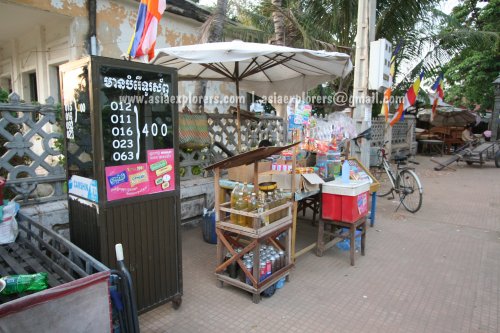 Siem Reap street stall
© Timothy Tye using this photo
More on Siem Reap
The architecture at Siem Reap is a mixture of colonial townhouses and Chinese-style architecture. This is especially apparent in the Old French Quarter, and around the Psar Char (@ Old Market). Of course, this refers to what it was. In the past 5-6 years, all types of modern architecture have descended on Siem Reap cashing in on the tourist dollar. An increasingly commercialized town, Siem Reap is experiencing a construction boom. Mushrooming all around town are new, ultra luxurious hotels that jostle for space with low-budget backpacker inns and guesthouses, all attempting to satisfy the needs of the tide of international visitors coming for the Angkor experience. At Siem Reap, in addition to Angkor ruins, you can enjoy Apsara dance performances, visit craft shops, silk farms, rice-paddy countryside, fishing villages, a bird sanctuary near the Tonle Sap Lake, go for a spa treatment, and even ride the hot air balloon and helicopter.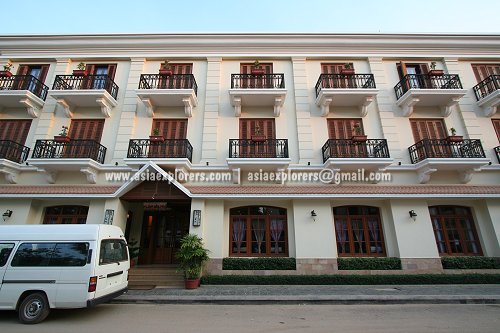 New apartments in Siem Reap
© Timothy Tye using this photo


Most of the smaller budget guesthouses are clustered around Psar Char, the Siem Reap Old Market area. If you're a budget traveller, you'd find plenty of good eating places around there. If you prefer better creature comfort, you should head for the more upmarket establishments. The more expensive hotels are located between Angkor International Airport and Siem Reap town, along National Road 6. There are a variety of mid-range hotels and restaurants along Sivatha, and budget to mid-range hotels in the Phsar Leu area. Apart from the top-end luxurious hotels, in the rest of the hotels provide adequate comfort, manned by helpful but not always very knowledgeable staff.

Budget travellers should have no problem finding a tuk tuk willing to take them on a tour of the ruins. Just pick one off the street, and if he's any good, retain him for the rest of your stay. It may be cheaper to pay him by the day than by the hour. Taxis are non existent in Siem Reap, but your hotel would be able to arrange for you a rented car with driver, if required. It might not be at all adviseable to drive yourself in Siem Reap, though many shoestring foreigners rent motorbikes and even bicycles. Unless you're particularly hardy and can stand the merciless Cambodian sun - not to mention the dust, I don't recommend hiring a bicycle.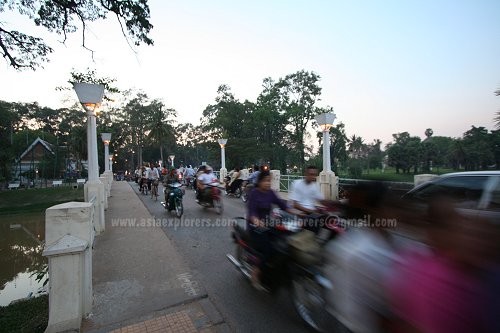 Workers in Siem Reap at the end of a work day.
© Timothy Tye using this photo
Getting there
You can go to Siem Reap by plane, by express boat as well as by bus from Phnom Penh as well as Thailand. For entry requirements, please check under Cambodia Travel Guide.

By Air
Flight is the safest, fastest, least time consuming, and in all likelihood, cheapest way to arrive in Siem Reap. Siem Reap-Angkor International Airport (REP) is the second biggest airport in Cambodia, and the major arrival point for most visitors to Angkor. It is located north of Siem Reap and west of the Angkor Archaeological Park. Airlines (with destinations in brackets) serving it include Air Asia (Kuala Lumpur), Air Macau (Macau), Angkor Airlines (Hanoi, Taipei-Taiwan Taoyuan), Asiana Airlines (Seoul-Incheon), Bangkok Airways (Bangkok-Suvarnabhumi), China Eastern Airlines (Kunming), CR Airways (Hong Kong), Jetstar Asia (Singapore), Kampuchea Airlines (Phnom Penh), Korean Air (Seoul-Incheon), Lao Airlines (Pakse), Malaysia Airlines (Kuala Lumpur), PMTair (Hanoi, Phnom Penh, Sihanoukville, Utapao), President Airlines (Phnom Penh), Royal Khmer Airlines (Hanoi, Ho Chi Minh City, Phnom Penh), Royal Phnom Penh Airways (Phnom Penh), Siem Reap Airways (Bangkok-Suvarnabhumi, Phnom Penh), Singapore Airlines (Singapore), SilkAir (Phnom Penh, Singapore), and Vietnam Airlines (Hanoi, Ho Chi Minh City)

Airport Tax:
International departures from Siem Reap: US$25 for adults, US$13 for children 12 and under.
Domestic departure: US$6.

Airport Transfer:
Taxis are available between the airport and Siem Reap for US$5.00. Motodop (@ tuk tuk) will do the job for US$4.00.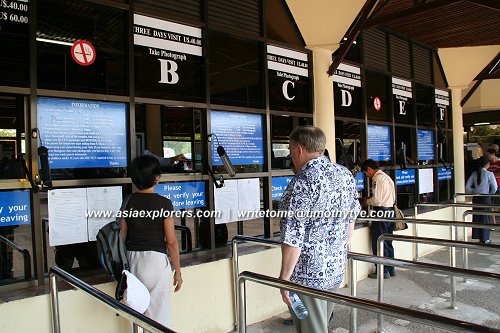 Getting the Angkor Pass
© Timothy Tye using this photo
Entering Cambodia by Land
From Thailand:

AsiaExplorers Advice: People making land journey from Bangkok to Siem Reap are holding on the short end of a deal (which they may not be aware of, unless they've also tried flying in and coming by express boat), and are exposed to all sorts of scams. I personally wonder why anybody would want to make a trip by land from Bangkok to Siem Reap, but if you insist on doing that, here's the information:
Take bus/train to Aranyaprathet on the Thai border, cross to Poipet on the Khmer border, then travel on to Siem Reap.

By Bus
You can get the buses from the Mo Chit (@ Moh Chit @ Mor Chit @ Morchit) Bus Terminal, also called the North & Northeast Bus Terminal. The Bangkok Skytrain (BTS) serves Mo Chit at station N8. Bus ticket to Aranyaprather: 160-200 Baht.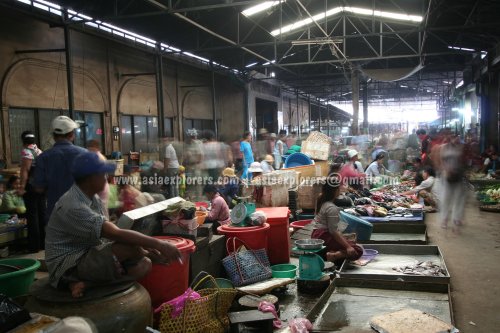 Scene at the Siem Reap Old Market.
© Timothy Tye using this photo


By Train
Two trains go from Bangkok's Hualamphong station to Aranyaprathet, all 3rd class coaches. Cost: a mere 48 Baht.

From Aranyaprathet, you take a tuk tuk (50-60 baht), motorbike (20 baht) or bus (10 baht) to the border, and walk across to Poipet in Cambodia.

In Poipet, you can get taxis to Siem Reap for US$40 per taxi. Alternatively, the bus is US$10, but be forewarned that you will squeeze into a minibus for a six-hour journey, possibly sitting on a middle fold-out seat, with your luggage dumped into the backseat.

Alternatively, you can take a bus from Bangkok's Khao San Road all the way to Siem Reap. Can tell for sure how long this will take, because you are likely to be at the mercy of the bus driver, who will spare no attempt to deposit you at the doorstep of a guesthouse where he will earn a commission (and you help him by being foolish enough to arrive in Siem Reap without a booking). In all likelihood, your bus will arrive in the wee hours of the night, at which time you are too exhausted to go house hunting. I have walked the streets of Siem Reap, even at night, and found it to be quite safe, but I am not sure it would be the most pleasant way to explore Siem Reap, if you have to lug your backpacks around. And if that's not all, if you arrive from a country that requires a visa, you may get scammed once again, at the border crossing, with an inflated cost for visa.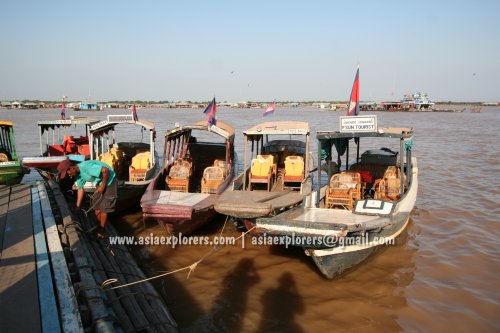 Boats on the Tonle Sap
© Timothy Tye using this photo
Going to Siem Reap from Phnom Penh
There used to be a comfortable express ferry between Phnom Penh and Siem Reap. I enjoyed it tremendously, but unfortunately it has since been discontinued. General opinion received is that the current boat trip is a rip off, at US$25.00, especially for foreigners, and a better option is to take the Mekong Express bus, at US$9.00.

Tour agencies that can arrange bus/boat tickets. (This is not an advertisement. AsiaExplorers does not receive payment for the following list, nor do we endorse any of these establishments.)

Neak Krorhorm, #003 Old Market, Siem Reap, tel: (855 12) 890156, (855 63) 964 924, email: nkhtour@hotmail.com
Angkor World Travel & Tours, #0711 Phum Wat Bo, Siem Reap, tel 063 966669
Kampoul Adventure Tour, #09 Siwatha Blvd, Siem Reap, tel: 855 63 760909, mobile: (855) 12 631066, email: kampoul@adventure.com.kh, web: www.adventure.com.kh
Advanced Ticketing Service, Siwatha St, next to CCB Bank, Siem Reap, tel: 855-63-965965, mobile: 012 514366, email: atssr@yahoo.com
AAG Cambodia Tour, #363 Group II, Trang Village, Siem Reap, tel (855-63) 965 788, email aagcam@comintel.com, web: www.aagcambodia.com
East-West Travel Ltd, http://www.eastwest-travel.com, tel (855-12) 818 118, email eastwest@online.com.kh
Avia Angkor Travel, http://www.angkortravel.com.kh, Sivatha Blvd, Neak Pean Hotel, Siem Reap, tel (855-23) 219060, email ata.rep@camintel.com
Indochina Explorer Tours, national road 6A (Airport Road), Siem Reap, tel: 855 63 963881, mobile: 012 314983, email: indochina@hotmail.com
Tourex Asia Co, #0550 Mondol 1 Svay Dongkum, Old Market Area, tel: 855-63-964277, email: tourexasia@online.com.kh, asiaholiday@online.com.kh
First Travel Cambodia, #291 Airport Road, Siem Reap, tel (855-63) 380 114, email firsttravelrep@online.com.kh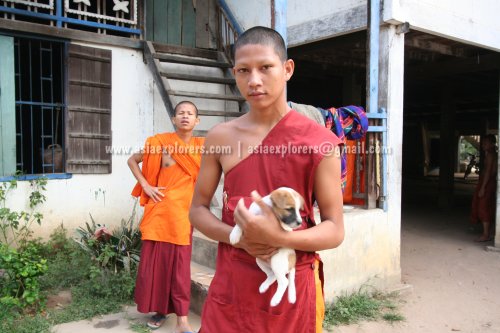 Novice monk with puppy
© Timothy Tye using this photo
Telecommunications
When dialling from overseas, the IDD code for Cambodia is 855. The area code for Siem Reap is 63. When dialing within the country outside the same area code, add 0 in front of the 63. Telephone numbers starting with 012 are mobile numbers. Drop the 0 when dially within Siem Reap.
Emergency Contacts
Medical
If feeling sick, you can visit Pharmacy Kanya in the Old Market area, tel: 016 339724

For more serious medical attention, the following hospitals offer 24-hour emergency services of international standard:


Royal Angkor International Hospital, located on Route 6, tel: 063-761888

Jin Hua International Hospital, located on Route 6, tel: 063 963299

Naga International Clinic, located on Route 6, tel: 063 9645000
Ly Srey Vyna Clinic, located on Route 6, tel: 063 965088

The Siem Reap Provincial Hospital (tel: 063-963111) is located 200m from the Old Market. Expert rather basic facilities.

Tourist Police
The police booth (tel: 012-402424, 012-969991, 012-838768) is located at the admission station into Angkor Archaeological Park.





Getting Around
If you are not on an organised tour, the easiest way to get around in Siem Reap is by tuk tuk. They are easily available in Siem Reap, especially around the Old Market area. Expect to pay between US$10-US$15 for a full day tour of the ruins within the Angkor Archaeological Park, with additional surcharge of US$5-US$8 if you are going to more distant ruins such as Banteay Samre, Bantaey Srei and Kbal Spean.

In addition to tuk tuk, you can also hire a car, for US$25 with driver. That's something to consider, if you want to be sealed from the dust and heat. I have seen a few hardy tourists renting bicycles. I personally wonder why anybody would want to do this, as the climate is so hot that one can get badly sunburned within a short while.
Postal Services
Siem Reap Post Office
The post office of Siem Reap is located on Pokambor Avenue, on the west side of the river, about 500 meters from the traffic circle. It is open 7:00am - 5:00pm daily.

Courier Services
DHL, tel: (012) 879020
Overseas Courier Services, Khmer Express EMS, tel: (063) 963446 (at the post office)
Shopping
Most visitors do their shopping at the Old Market area. This is where you find a whole range of shops selling t-shirts, postcards, guidebooks, handicrafts and more. The area surrounding the Old Market is also where you could find boutiques and galleries selling more quality items. Be mindful that you are not allowed to bring home genuine antiques, so limit your purchase to handicrafts.

A few items for your consideration:


Stone Carvings: The most popular is the face bust of Jayavarman VII. They are quite heavy, but worth it for their sublime beauty.
Cambodian silk: This is a pricey item, hand-loomed using traditional weaving methods.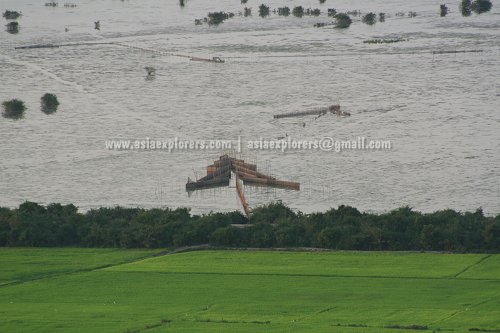 View of the fish traps in Tonle Sap and paddy fields
© Timothy Tye using this photo
Shows & Performances
Numerous venues in Siem Reap stage traditional Khmer dances, an artform which was surpressed during the Khmer Rouge years, but has since been revitalised. Most of these performances include dinner, usually of buffet style, which begins at 6:00 or 7:00pm, with the dances beginning at 7:30pm. Contact the following venues for reservations:
Angkor Mondial, Buffet dinner and cultural dance. Cambodian, Chinese and European dishes. Dinner starts at 6:30pm, performances from 7:30-8:30pm, tel: 063 760875
Apsara Theatre (@ Angkor Village), Set Cambodian meal with cultural dance. Two performances per night, at 6:00-8:30pm and 8:00-9:30pm, tel: 063 963561
Bayon II Restaurant, buffet dinner with cultural dance. Khmer, Chinese, Thai and Japanese dishes. Dinner from 6:00pm, performances from 7:30-8:30pm, tel: 012 614040
Chao Praya Restaurant, buffet dinner with cultural dance. Asian and European dishes. Dinner from 6:00pm, performances from 7:30-8:30pm, tel: 063 965052
Dead Fish Tower, continuous live traditional dances during dinner time, tel: 012 630377
Grand Hotel d'Angkor, traditional dance performances on Mondays, Wednesdays and Fridays at 7:45pm at the Apsara Terrace restaurant, tel: 063 963888
La Noria Restaurant, puppet shows and traditional dances by children every Wednesday at 7:30pm, tel: 063 964242
La Jardin de l'Apsara, Victoria Angkor Hotel, traditional dance performances, call for latest schedule, tel: 063 760428
Le Meridien Hotel, traditional dance performances on Tuesdays, Thursdays and Sundays, dinner from 7:00pm, performances from 8:00-9:00pm, tel: 063 963900
Le Résidence d'Angkor, traditional dance performance with dinner on Tuesdays, Thursdays and Saturdays, 8:00=8:45pm, tel: 063 963390
Sofitel Royal Angkor, traditional dance performance with dinner. Dinner starts at 6:00pm, performances from 8:00-9:00pm, tel: 063 964600
Tonle Mekong, traditional dance performance with buffet dinner. Asian and European dishes. Dinner starts at 6:00pm, performances from 7:30-8:30pm, tel: 012 710626
Tonle Sap, traditional dance performance with buffet dinner. Asian and European dishes. Dinner starts at 6:00pm, performances from 7:30-8:30pm, tel: 012 893459
Tourist Attractions in Siem Reap
Although I do know of someone who visited Siem Reap, stayed for two weeks and came back without every visiting the world famous ruins of Angkor, he is in the absolute minority. It is quite safe for me to say that Siem Reap is enjoying a massive tourist boom because of Angkor.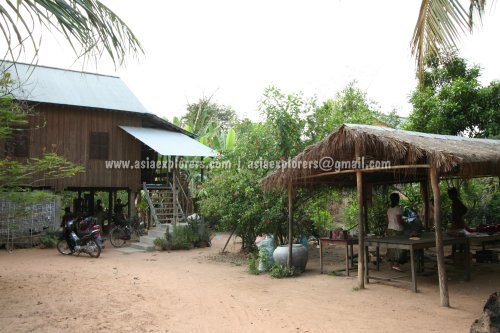 Village house outside Siem Reap
© Timothy Tye using this photo
Angkor Archaeological Park
If you are Angkor on your own, it is up to you do decide the number of ruins you wish to visit. Most of the temples documented are within the Angkor Archaeological Park. Entrance fee to the park is US$20 per day, US$40 for three days, and US$60 for one week. Most visitors opt for the 3-day pass. The pass is obtainable at the checkpoint enroute to Angkor Wat. For those getting multiple-day passes, a photograph of you will be shot at the checkpoint itself, and printed onto the pass, which acts as a souvenir of your visit to the Angkor Archaeological Park. At time of updating this page (June 2009), the authorities are in the process of modifying the rules so that in future (perhaps by the time you read this), visitors holding the 3-day pass can use it on any 3 days of a week, and those holding the 7-day pass can use it on any 7 days of a month. You need to carry your Angkor pass with you at all times. Failure to produce your pass will result in an on-the-spot fine of US$30 or more. Phnom Kulen, Koh Ker and Beng Melea are Angkor ruins located outside the Angkor Archaeological Park, and require separate passes of US$20, US$10 and US$5 respectively.

Within the Temples of Angkor section below, you will find one of the most detailed documentation of all the sights, ranging from the iconic landmarks such as Angkor Wat and Bayon, right down to the obscure jungle ruins of Mangarlatha, Kuvisvara, etc. It is best that you do some homework before you go. Take a look at the listing of the ruins and check them out on the map. Look at the documentation in AsiaExplorers to determine whether you want to pay it a visit. Then plan which you want to visit, according to the amount of time at hand.
Eating in Siem Reap
There is lots to eat in Siem Reap, but there is only one place I would recommend. The name of the place is Khmer Kitchen, and in my opinion it serves then best and most authentic Khmer food in Siem Reap. The price is also very reasonable, and it is hygienic enough to cater to foreign visitors. This is not an advertisement, and I am not receiving any payment from this establishment for making this recommendation. I am simply telling it to you because it is good. Khmer Kitchen is open daily 10:00am - 10:00pm. It is located down an alley just north of the Old Market. Tel: 012 763-468 Call ahead to book, because unless you come early (say 6:00pm), the tables are usually all taken up.
Activities
There's more to Siem Reap than the ruins of Angkor. There really is a lot to do, and I am listing here some of the activities:

Elephant Rides. There are three places you can take elephant rides. One is at the Bayon. Another is at the South Gate of Angkor Thom. The third is at the base of Phnom Bakheng, especially in the evening, when the elephants are used to take tourists up the hill to view the sunset. Rides are priced at US$10-15 for 25 minutes.
Helicopter Tours. To view the ruins of angkor by helicopter, contact 063 964600
Angkor Balloon. Get a bird's eye view of the Angkor ruins from a hot air balloon. Site is about 1km west of Angkor Wat. tel: 855 12 520810, or email sokhasr@camintel.com
Mine Museum Revisit the civil war years of Cambodia, and view upclose the defused mines, bombs and other ordinances. Open 7:00am-6:00pm, privately run. Turn right off the road to Angkor Wat at the Krousar Thmey sign. After 750m, turn left and then go another 750m. The museum is on the left side of the road.
Tonle Sap The great Tonle Sap lake is located about 30 minutes south of Siem Reap. You can arrange with a tuk tuk to take you there. For a boat ride around the lake, you would stopover to buy your tickets at a station in Chong Khneas, at the base of Phnom Krom hill, before arriving at the lake. A 1-2 hour boat ride costs US$5-US$10 per boat. On this boat tour, you will visit the floating village (they are not really floating, but rather, built on stilts over the lake) of the Vietnamese who have migrated to stay in Tonle Sap -- they have everything waterborne, even their church. Stopover to visit the crocodile farm and fish farm. You can also arrange for the boat to take you to the Prek Toal Bird Sanctuary -- the Tonle Sap is home to 120 bird species. For views of the Tonle Sap, go to http://www.asiaexplorers.com/cambodia/tonlesap.htm
Phnom Krom This is the hill overlooking Tonle Sap. On the top of Phnom Krom is an Angkor temple. This is another place to go during sunset.
Massages and Spas in Siem Reap
There are a number of places where you can enjoy a traditional massage. Here's a selection. AsiaExplorers does not provide a recommendation or endorsement.

Angkor Health Traditional Khmer and Thai massage. tel: 012 731135
VIP Khmer Massage Foot and full-body massage. Air conditioned massage room. tel: 012 275051, web: www.khmervip.com
Body Tune Health massage and spa in a modern atmosphere. Open daily 10:00am-10:00pm tel: 063 764141
Islands Traditional Khmer Massage Real Khmer massage for men and women. Located near the Old Market. Open 10:00am-10:00pm tel: 012 757120
School Massage Massage by blind masseurs trained by physiotherapists in the Krousar Thmey program. tel: 012 936876
Shinta Mani Spa Treatment rooms for singles and couples including floral bath and steam room. Professionally trained therapist. tel: 063 761998
Spa Indochine at Hotel de la Prix Upscale spa, therapy and treatment centre. Sivatha Boulevard. tel: 063 966000
Temple Touch Massage Swedish and Shiatsu massage, leg massage, reflexology, body treatments. Open 9:00am-11:00pm, tel: 012 756655
Traditional Khmer Health Massage Foot, full-body, 4-hands massage, powder or oil. Near Old Market. tel: 012 757120
Victoria Angkro Resort & Spa Traditional massage in two open-air salas. Jacuzzi, cool pool, steam rooms, facials, body wraps, scrubs, individual spa packages. tel: 063 760428
Visaya Spa & Pool Saltwater pool, aromatherapy, massage, treatments, facials, scrubs, wraps. tel: 063 760814