Changchun (长春), Jilin, China Travel Guide
---


Cultural Square, Changchun
Author: Broboman (Creative Commons Attribution 3.0 Unported)




Changchun (长春) is the capital and biggest city in Jilin Province, China. This sub-provincial city covers 20,532 sq km (7,927 sq mi) with an urban area covering 3,616 sq km (1,396 sq mi). Changchun has an urban population of 3.6 million people and a sub-provincial city population of 7.5 million. It observes the China Standard Time, which is eight hours ahead of Coordinated Universal Time (UTC+8). The phone area code here is 0431.
Guide to Changchun Hotels
It's never easy finding the hotel that's just right for your stay. Still, by taking a little time to do your research, you increase your chance of getting a good hotel at the best price. Go through the list of hotels in Changchun which we've put together, with full description, star rating, address, location map and evaluation. Pick the hotel of your choice and view the rates offered by different booking sites. Yes, we show you prices from different websites, so you don't have to visit them one by one.
More about Changchun
Changchun is located in the Northeast China Plain. The city itself is at an elevation of about 300 m (985 ft) above sea level. The city experiences a humid continental climate with long, cold winters and hot, humid summers. The warmest month is July, when average temperature reaches 27.6°C (81.7°F). Winters are extremely cold, with average low temperature for January dropping to -19.7°C (-3.5°F). The heaviest rain falls in July, which receives 161 mm (6.34 in) of precipitation.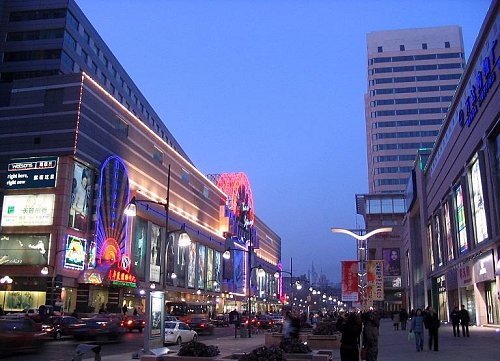 Chongqing Road in downtown Changchun
Author: Derekjoe (Creative Commons Attribution 3.0 Unported)

The city of Changchun is subdivided into six district, three county-level cities and one county. It is a rapidly growing city with a 2007 GDP of ¥208.9 billion, a two-fold increase in five years. The industries based in Changchun include the largest automobile manufacturing facility in China, foodstuff, medicine and photo-electronic information.

Unlike other major cities in China, modern Changchun has quite a recent history, going back to 1800, when Emperor Jiaqing established it from a small village by the Yitong River. The area however has been settled for thousands of years, with different settlements existing there, including Xidu, Helong, Tiangang, Shushan, Longzhou and Kuancheng. Originally written as Hsinking under the old spelling, Changchun was connected by rail in 1898 when the Harbin-Lüshun branch of the Chinese Eastern Railway line was built.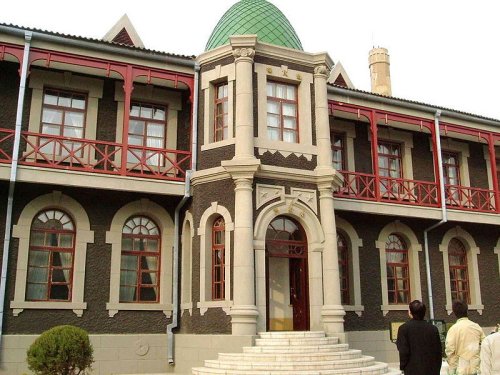 Manchurian Palace, Changchun
Author: Derekjoe (Creative Commons Attribution 3.0 Unported)

The Russo-Japanese War of 1904-05 resulted in Hsinking being the border town between Russia-controlled Manchuria and Japan-controlled South Manchuria, or Manchukuo. In 1932, the Japanese relocated the capital of Manchukuo from Jilin City to Hsinking. The Japanese installed China's last emperor Pu Yi as the head of state of the Manchukuo government.

Changchun suffered heavy damage during the Second World War. It was then captured by the Soviet Red Army in 1945. The following year Kuomintang troops captured the city, only to lose it to Communist troops in 1948. The new Chinese government changed the Ropmanization from Hsinking to Changchun. The city has been the capital of Jilin Province since 1954. In 2007 it hosted the Winter Asian Games.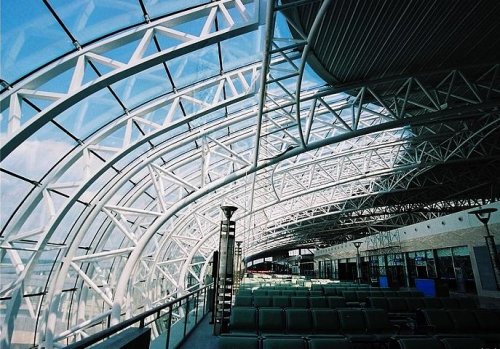 Changchun Longjia International Airport
Author: Derekjoe (Creative Commons Attribution 3.0 Unported)
Planning your trip to Changchun
The Changchun Longjia International Airport (CGQ) is a new airport opened in 2005. It is 30 km to the east of downtown Changchun. The airport is served mainly by domestic flights, with a number of international flights from Seoul and Nagoya. Arriving here, you can take the coach bus to the city. Journey takes about 45 minutes and the fare is ¥30. Taxis charge at least ¥100 from the airport to the city, although in the other direction, the fare inclusive toll is just ¥80.
Exploring Changchun
The city center of Changchun is sufficiently compact for exploring on foot. To go greater distances, it has an extensive bus network. In addition, there are minibuses, trams and a light rail transit, which presently has a single line.



[an error occurred while processing this directive]
Places of Interest in Changchun
Banruo Temple
Changchun Film City
Jingyuetan National Forest Park
People's Square
Puppet Imperial Palace
South Lake
Wenhua Square