Guiyang (贵阳), Guizhou, China Travel Guide
---


Guiyang skyline at dusk, with Jiaxiu Lou
Author: Olemissius (Creative Commons Attribution ShareAlike 3.0)





Guiyang (贵阳) is the capital and biggest city in Guizhou Province, in southwestern China. The prefecture-level city covers 8,034 sq km (3,101.9 sq mi) and has a population of 3.9 million people. It is located at an elevation of 1,275 m (4,183 ft) above sea level, on the eastern side of the Yunnan-Guizhou Plateau, on the northern bank of the Nanming River.
Guide to Guiyang Hotels
It's never easy finding the hotel that's just right for your stay. Still, by taking a little time to do your research, you increase your chance of getting a good hotel at the best price. Go through the list of hotels in Guiyang which we've put together, with full description, star rating, address, location map and evaluation. Pick the hotel of your choice and view the rates offered by different booking sites. Yes, we show you prices from different websites, so you don't have to visit them one by one.
More about Guiyang
As with most capital cities in China today, Guiyang is a modern city with a fair share of skyscrapers. Its economic activity stems from its position as the commercial hub for Guizhou Province. It is where wholesalers for the province are based. The city also has a growing pharmaceutical industry specializing in traditional Chinese medicine as well as Western medicine. Today the city enjoys a GDP in excess of ¥24,585 (2009).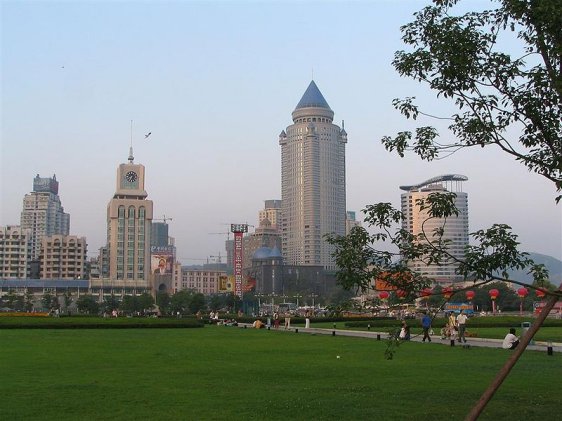 Guiyang, Guizhou Province, China
Author: Mrspaceman (public domain)

The city of Guiyang is divided into eleven districts. Right at the heart of the city is the Big Ten (大十字), which is the Chinese character for ten (十), so in a way, x marks the spot for Guiyang's city center. The city experiences a humid subtropical climate. The warmest month is August, when average temperature rises to 28.5°C (83.3°F). January is the coldest month with average lows of 2.7°C (36.9°F). June is the wettest month, receiving 225.2 mm (8.866 in) of precipitation.

Guiyang was founded in the 13th century, when the Mongols ruled China. Its original name was Shunyuan, which means "obeying the Yuan (the Mongol rulers)". The area was already inhabited by various non Chinese tribes before Guiyang was founded. It only grew during the Yuan Dynasty, and later on under the Ming (1368-1644) and Qing (1644-1911) dynasties.
Planning your trip to Guiyang
Taking a domestic flight to Guiyang is the fastest way to get there. There are flights from Beijing, Shanghai, Guangzhou, Kunming and Chengdu.

Going to Guiyang by rail will be slow. Even a trip from neighboring Chongqing will take 12 hours, one from Kunming is overnight.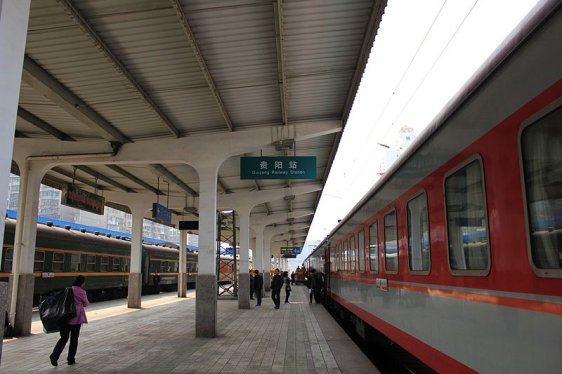 Guiyang Railway Station
Author: Zhangmoon618 (Creative Commons Attribution 3.0 Unported)
Exploring Guiyang
Guiyang has a well-developed bus network. However, you do need to understand some Chinese to use it. The fare is quite low, just ¥1 to ¥2.


Places of Interest in Guiyang
Cuiwei Garden
Originally part of a temple for the Goddess of Mercy, today it is a collection of late-Qing era buildings.


Guizhou Provincial Museum
Museum showcasing local artifacts, including a 1-meter high (3 ft) Han-era bronze horse and chariot.


Hongfu Temple
This is a temple built during the Qing Dynasty. It is located in a forested hillside reachable by cable car and sedan chair rides.


Huaxi Park
A park with pavilions and tea gardens located to the south of Guiyang.


Jiaxiu Lou
A Guiyang landmark, this is an inspirational meeting place for scholars. The 16th century historical pavilion was erected on a rock jutting out of Nanming Lake.


Qianling Shan Park
This is a park in northern Guiyang includes forested hills. It's a good place to watch the locals. The park even has a zoo and a small amusement park.


Tianhetan
Located outside Guiyang, this is a nature site with a cave system, canal and waterfall. You can explore on foot as well as take a boat ride.


Yangming Lane
Lane bustling with market activities.