Kyrgyzstan (Кыргызстан)
---


Panorama of Bishkek, capital of Kyrgyzstan
Author: Almutamid (public domain)




Kyrgyzstan is a landlocked nation, officially called the Kyrgyz Republic, located in Central Asia. This mountainous country is bordered by Kazakhstan to the north, China to the east, Tajikistan to the southwest, and Uzbekistan to the west. Kyrgyzstan covers 199,000 sq km (77,181 sq mi) and has a population of 5.5 million people. Its capital and biggest city is Bishkek.


Ethnic Kyrgyz forms 68.9% of the population, followed by 14.4% ethnic Uzbek and 9.1% ethnic Russian. The official language is Russian while the state language is Kyrgyz. The name "Kyrgyz" is a Turkic word meaning "forty", referring to the forty different tribes that banded together.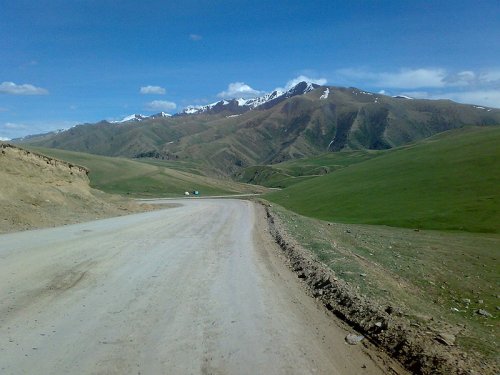 Dolon Pass, Kyrgyzstan
Author: Nurdjen (public domain)

Kyrgyzstan is six hours ahead of Coordinated Universal Time (UTC+6). Traffic is driven on the right here. The phone IDD code is +996. The electricity is 220V/50Hz using European plug.

The state of Kyrgyzstan traces its history to the 8th century, when Arab invaders introduced Islam to Central Asia. The Kyrgyz state reached its biggest size under Jordan the Superior in AD 840. Over the centuries, it shrunk in size as neighboring tribes rose in power. The Kyrgyz were conquered by the Mongols under Genghis Khan in 1207.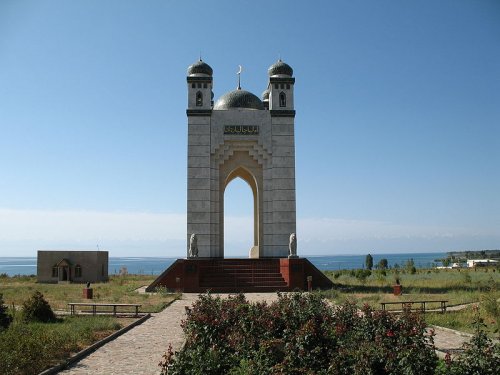 Monument at Issyk Kul Lake, near Cholpon-Ata
Author: Nikolay Yushnikov (public domain)

China was in control of much of Kyrgyzstan until the late 19th century, when the much weakened China of the Qing Dynasty ceded it to Russia, and it was formally incorporated into the Russian Empire in 1876, a move which resulted in numerous revolts by the locals and an influx of refugees south, to Afghanistan. Another wave of Kyrgyz refugees streamed into China following suppression from the 1916 rebellion against Russian rule.

On 5 December, 1936, the Kirghiz Soviet Socialist Republic was formed, as a full republic within the Soviet Union. When the Soviet Union was in the brim of collapse, a referendum pointed out to a overwhelming majority (88.7%) who voted to retain the Soviet Union, as the state was economically unable to stand independently. Nevertheless secessionists pushed for Kyrgyz independence, which came about on 19 August, 1991. The country was named the Republic of Kyrgyzstan, and later in 1993 renamed the Kyrgyz Republic.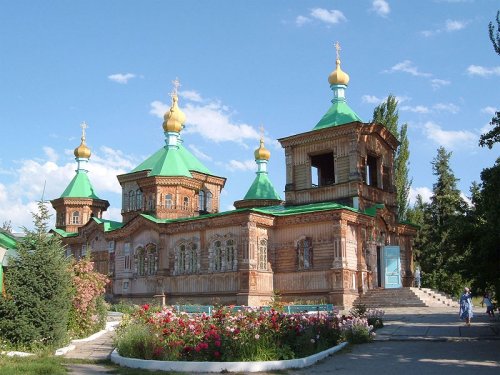 Russian Orthodox Holy Trinity Cathedral, Karakol, Kyrgyzstan
Author: hux (public domain)

The official currency of Kyrgyzstan is the Som (KGS). In 2010, Kyrgyzstan had an estimated nominal GDP of $5.122, equivalent to a per capita nominal GDP of $941. Its per capita GDP at purchasing power parity is $2,341.

The country is one of the poorest in the region, and the increase in cost of living sparked a demonstration which erupted as recently as 6 April, 2010. A week later, the Kyrgyz President Kurmanbek Bakiyev fled the country with his family.
Planning your trip to Kyrgyzstan
Due to deteriorated political stability of the country, casual visitors and tourists are discouraged from visiting Kyrgyzstan until the situation improves.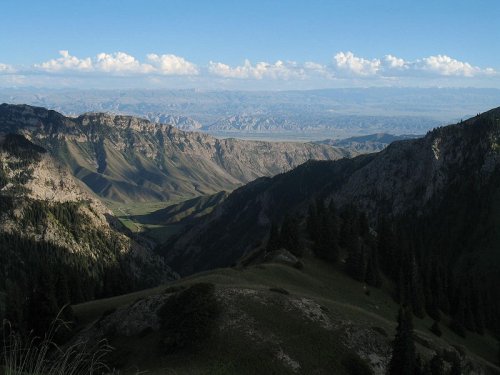 Moldo Ashuu Pass, Kyrgyzstan
Author: Firespeaker (Creative Commons Attribution 3.0 Unported)
Major Towns in Kyrgyzstan
Bishkek - capital
Balykchy
Jalal-Abad
Karakol
Kochkor
Naryn
Osh
Talas
Tokmok
Places of Interest in Kyrgyzstan
Ala Archa National Park
Burana Tower
Lake Issyk Kul
Lake Song Kul
Tash Rabat
UNESCO World Heritage Sites in Kyrgyzstan
Hello and welcome to my website, yay!

My name is Timothy Tye. I write this website, and continue to update it regularly, to share with you interesting information about all the places in the world. It is one of my several travel websites, which also include Big World Out There and The World Heritage Sites.

Help me keep my pages updated. If you found errors, please do kindly let me know. For all correspondences, click here to contact me. Thank you for visiting, and have a great day!




I am quite active online and interact closely with readers of Big World Out There in the Big World Out There Facebook Group. This is the place where members get to share the photos and travel tales of exploring and discovering the world. Come join this group. I would love to see you there!





Copyright © 2003-2015 Timothy Tye. All Rights Reserved.
---
Terms & Condition of Use | Privacy Policy