Pokhara (पोखरा), Nepal Travel Guide
---


Pokhara, Nepal
Author: Wolfgang Beyer (Creative Commons Attribution ShareAlike 2.5 Generic)





Pokhara (पोखरा) is a small, rather messy Nepali town within a scenic location. It is located some 200 kilometers to the west of Kathmandu. With a population of 200,000, it is said to be the third largest metropolitan area in Nepal after Kathmandu Valley and Biratnagar.
Guide to Pokhara Hotels
Here's a list of hotels in Pokhara that you can book online, with full description, star rating, address, location map, evaluation, and prices as offered by different booking sites.
More on Pokhara
Pokhara sits in a bowl surrounded by tall mountains. It is about 900 meters above sea level, but within 30 kilometers from Pokhara, are mountains reaching 7,500 meters. The most distinctive feature of the town is Lake Phewa, a 4.4 square kilometer lake at 800 meters above sea level. This is where one can catch breathtaking views of the surrounding mountains including the Dhaulagiri, Annapurna, Manaslu and the most famous of all, the Machapuchare.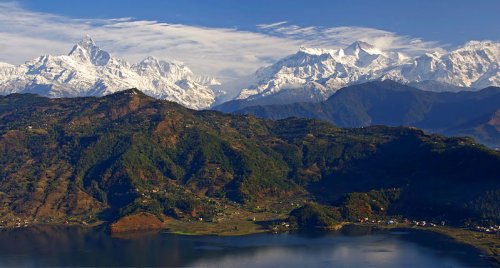 Annapurna Range, as seen from Phewa Lake in Pokhara
Author: Jean-Marie Hullot (Creative Commons Attribution ShareAlike 3.0) The warmest months in Pokhara are April to September, when the temperature rises to around 26.1°C (79°F). In December and January, the temperature drops to below 5°C (41°F). Heaviest rain is expected in the months of July and August, with precipitatioin of over 325 mm (12.8 inches) for each month.
Budget Travel to Pokhara
You can get to Pokhara by taking a bus from Kathmandu. The journey takes a good 9 hours with a stop along the way, and costs between 280 to 380 Nepali rupees. Alternatively you can fly from Kathmandu to Pokhara for US$90 each way, in just half an hour. A flight to Pokhara gives you an aerial view of the snowcapped peaks.
Budget Travel within Pokhara
You can easily explore Pokhara on foot. Take the motorised rickshaws only when the distance is too far.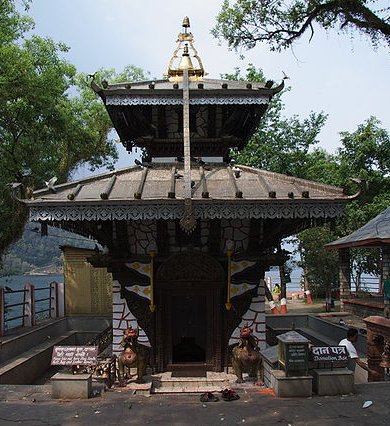 Barahi Temple on Phewa Lake, Pokhara
Author: Tom Booth (Creative Commons Attribution 2.0 Generic)
Places of Interest in Pokhara
Phewa Lake
The biggest of the eight lakes in Pokhara, with wonderful views of the mountains.


Lakeside
Tourist quarters on the eastern shore of Phewa Lake.


Damside
Tourist quarters on the southern shore of Phewa Lake.


Bindyabasini Temple
Temple in Pokhara dedicated to an avatar of the goddess Bhagvati.


Annapurna Regional Museum
Museum within the Prithvi Narayan Campus, with exhibits of local flora and fauna.


Barahi Temple
Tiny shaded temple on an island in Phewa Lake.


Pokhara Museum
Museum displaying traditional costumes, tools and other items of the different ethnic groups in the Pokhara region.


Tiger Mountain Pokhara Lodge
Luxury lodge with the best view of Machapuchare.


Devi's Falls
A sinkhole with a river making a waterfall into it.


Tashi Ling Tibetan Settlement
One of the three Tibetan refugee camps in Pokhara.


Tashi Palkhel
The biggest Tibetan refugee camp in Pokhara, located near Hyangja.


Mahendra Gupha
Limestone caverns at the village of Batulechaur.


Sarangkot
Hilltop viewpoint located at 1,592 meters.


Tansen
Charming trading town located half a day from Pokhara.