Banaue Rice Terraces, Philippines
---



Banaue Rice Terraces are ancient rice terraces in the mountains of Ifugao, on the island of Luzon in the Philippines. Also called Payew, these rice terraces are believed to be two thousand years old. They were carved by the ancestors of the indigenous people of Banaue, and are regarded by the Filipinos as the Eighth Wonder of the World.


The Banaue Rice Terraces cover an area of 10,360 sq km (about 4,000 sq mi) of mountainside. They are irrigated from canals coming from the rainforests located in the mountains above them. Most of the terraces are in the highlands, above 1,500m (5,000ft) above sea level.

Despite their recognition within the Philippines, the Banaue Rice Terraces are not part of the Rice Terraces of the Philippine Cordilleras, which is a UNESCO World Heritage Site of the Philippines. Those inscribed include only the rice terraces in Batad, Bangaan, Mayoyao, Hungduan and Nagacadan. Nevertheless the Banaue Rice Terraces are recognised as National Cultural Treasures of the Philippines, under the title Ifugao Rice Terraces.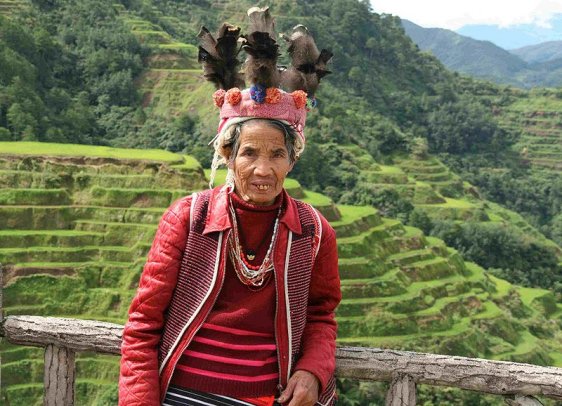 Beach near Puerto Galera in Mindoro
Author: Agricmarketing (public domain)
How to visit Banaue Rice Terraces
Most visitors go through a travel agency in Manila or Baguio City. Visits are usually arrange during the summer months, which are between February to April. A round trip by bus costs P400 to P450. The distance between Manila and Banaue is around 350 km. If you go there on your own, you can hire a jeepney or tricycle upon arrival. In any case, expect to do some hiking as the rice terraces are not near the roads.