Phra Phutthabat, Thailand, Thailand Travel Guide
---


Phra Phutthabat is a giant stylized Buddha footprint in Saraburi Province, Central Thailand. The footprint is 1.5m (5ft) in length, and is today housed inside a mondop built in the late 18th century to replace the one destroyed by the Burmese in the 1765 attack.

The footprint was discovered in the early 17th century. According to the story, the King of Ayutthaya Song Tham sent a group of monks to Sri Lanka to pay homage to the Buddha's footprint there. In Sri Lanka, the monks received an astonishing revelation from the Sri Lankan monks, that there is a footprint in Thailand itself.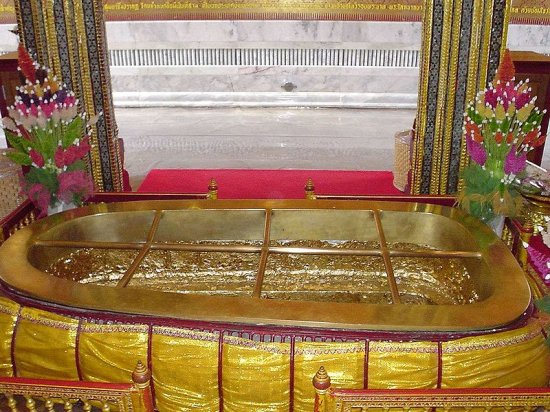 Phra Phutthabat
Author: Ahoerstemeier (Creative Commons Attribution 3.0 Unported)

On hearing the news, King Song Tham ordered a search for the footprint. It was eventually discovered by a hunter who was chasing a wounded deer. The hunter had come upon a pool of water. Upon drinking the water, he discovered that a skin ailment he was suffering from miraculously disappeared. He realised that the pool was in the shape of a giant footprint, and he reported this to the king, who proceeded to build a temple to shelter it. The footprint became one of the most sacred Buddhist sites in Thailand.

The town of Phra Phutthabat grew around this temple, which is called Wat Phra Phutthabat. About 40 km to the southeast is a cliff face with a faint Buddha image known as Phra Phutthachai, or "Buddha's shadow". It was painted by a hermit and is also a Buddhist pilgrimage site.